If you had to choose one movie to represent your learning strategy — with plot twists and turns depicting your L&D team's unique journey — which film would it be?
Perhaps your organization celebrates tenacity like "Rocky." Maybe "Speed" is the blockbuster comparison, because this ain't no regular bus ride, right? Or it could be any James Bond flick, owing to all those clever inventions that help save the day.
Like many teams, yours is probably tasked with scripting a more innovative approach to L&D in 2022 — to improve remote learning, optimize platforms, increase adoption and more. And it all might be feeling a bit like "Moneyball," the true story of a major league baseball club that embraced its own brand of innovation by analyzing data to boost performance.
Why innovation? And why now? In a world where forces like the Great Resignation continue to disrupt the economy, pressure to continually develop workers, fill skill gaps and make your company more resilient can seem relentless. It's imperative to think strategically about how you can do more to support key business initiatives and grow revenue like a box office sensation.
Degreed LENS 2021 was a chance to explain our latest product innovations, announce the launch of Degreed Intelligence, and hold our annual flagship conference in person for the first time in two years. As we gathered this week in Los Angeles with Tinseltown as a backdrop, learning pros were challenged to greenlight their next big production.
With presenter after presenter focused on a common theme — how to make L&D the hero of a meaningful adventure — Degreed CEO Dan Levin set the scene: "We live in a world of change. We live in a world of evolution. We live in a world where we all have to be lifetime learners if we're going to succeed. And we live in a world where the classic education… will never be enough to sustain us through our careers."
And with that, let's roll. In this close-up, we'll take a look at how to:
Make Learning a Business Imperative
Elevating the importance of L&D as a business enabler starts with understanding your company's business objectives and asking a key question: what workforce skill gaps are getting in the way of success?
"And then, in those gaps, 'Where is learning a solution?'" said Molly Nagler, CLO at PepsiCo. "I think learning professionals will increase their own credibility if they admit that learning is not an answer to every problem. Maybe you need to hire people. Maybe you need to acquire a new technology… Once you decide, then you can design to that."

When learning is part of the solution, partnering with key stakeholders is important for guiding development toward the right priorities. To secure that support, Nagler recommends L&D frame learning as a platform for senior leaders' agendas.
In addition, set goals and track progress. Success metrics are important, and it's imperative to tie learning metrics to business metrics. In one example, learning teams at PepsiCo analyzed a development program that connected people during the pandemic. How? By measuring growth in their online networks. In another instance, L&D tracked the rate of one-on-one meetings between managers and workers to gauge the success of diversity and inclusion training focused on improving mentorship.
Don't forget to share qualitative and anecdotal impacts too. Sometimes, they steal the show.
"For our big leadership programs," Nagler said, "we always have participants meet with senior executives after the program to share what they learned and what the program meant to them. Those testimonials are just priceless. We talk so much about, you know, 'follow the data.' And that's really important. But there's no substituting for that personal story."
Influence Through Storytelling
Stories open people to new ideas. They engage our senses, bring us closer, promote empathy, bring catharsis and attach us to a brand or culture, said storytelling expert and keynote speaker Nancy Duarte, CEO of Duarte, Inc.
"Telling your story is going to be the first step in you changing the world," she said. "You'll have people follow you to this place in the future where you're trying to drive positive change."
From creating better learning content to presenting L&D success metrics, understanding how a well-told story is constructed can make you and your team more influential.

Stories often have three acts. In the first, we typically meet and like a flawed hero who has a goal, Duarte said. In the second act, an incident occurs. Hardship creates roadblocks, and we root for the hero to overcome obstacles. In the third act, the hero emerges transformed.
"There's always a lesson," Duarte said, adding this gives audience members permission to admit their own flaws. From there, they can overcome obstacles too.
A similar story structure applied to L&D analytics can be equally influential. To better communicate your data and findings, first describe your business problem or opportunity, Duarte said. Second, share whether the data supporting that is positive or negative. Third, make the action that needs to be taken crystal clear.
"By structuring it in the shape of a story, your decision will be made quicker. It'll move your decision making from 'Let me think about it' to 'Let's do something about it.'"
Urging L&D leaders to think like story-telling marketers, keynote speaker and marketing consultant Neil Bedwell, Partner at LOCAL, said workers want to belong and feel valued. Creating positive narratives about your company, he said, can sway people toward positive employee experiences that in turn drive successful customer experiences. "Your employees are an audience worth winning."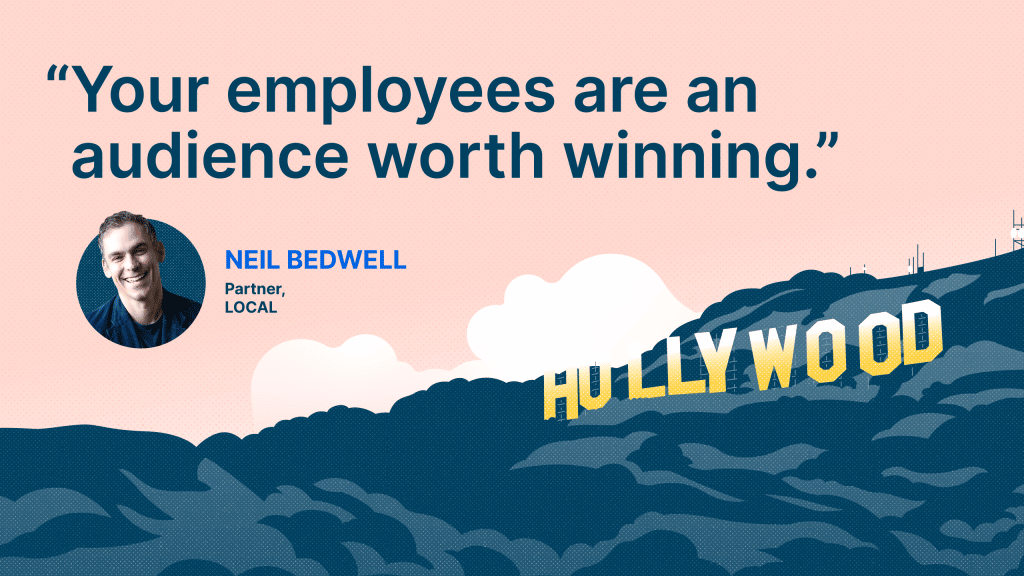 Embrace Experiential Learning
You've got a choice. The red pill perpetuates the status quo. The blue pill brings change, a chance to accelerate skill growth and give your people new capabilities the world needs.
If you opt for the latter, understand people learn by practicing — and that experiential learning can create the right conditions for applying new knowledge on the job. You can enable it by connecting workers to stretch assignments, gigs, mentorships and more based on their skill-building goals. An online opportunity marketplace can help. And remember: experiential learning doesn't need to lead to promotions. The growth can be lateral and incremental.
For L&D to solve the problems of tomorrow, it needs workers to be confident in skill building — and experiential learning can instill that determination by engaging people and their sense of belonging while simultaneously supporting business imperatives, said Haylee Metzner, Senior Human Resources Programs Specialist at Synopsys.
Like PepsiCo, Synopsis L&D accounts for corporate strategy, using company objectives reaching one, two, three years into the future as a starting point for determining how experiential learning can help advance the organization.
These days, more and more of those learning experiences happen online.
"Recently, I partnered with our applications engineering group," Metzner said. "Prior to the pandemic, they would bring everybody globally to one city, one space, one hotel, eight hours a day, five days for a week to upskill on our new products.
"We had to look for alternative ways to create those experiences," she said, adding technology has played a big role and opened opportunities to a wider audience.
"These would have been experiences that only a small group or maybe a small cohort would have had access to," Metzner said. "But now… we're able to open those opportunities to others within the organization and be more inclusive, right? To drive home that belonging."
Use Skill Data for Good
Embracing analytics can change how your learning team thinks about maximizing its investments. It's an especially logical next step if you have established L&D programs.
"Using skill data to improve our organizations isn't just a pipe dream," said Isabel Sapriel, Director of Embedded Product at Visier, a Degreed partner. "If we do this right, we can really transform L&D from a cost center to a true driver of revenue."
Skill data is the measurement of what your people can do. One example is data on how people self rate their current capabilities. Another example is the skills they've identified as those they'd like to learn.
To use skill data, start by understanding your company's goals and priorities then consider the capabilities it needs to achieve them, Sapriel said. "Apply skill analytics to say, 'What are the skills I have in my organization today? How is that similar or different from what I need in the future? And how can I think about filling those gaps strategically?'"
This leads to more questions: Should you build needed skills in house? Hire new people? How far will each approach get you? How long would each take? How much will it cost?
With those questions answered, "then we can start applying this across the employee lifecycle to see what interventions we need at each stage — to make sure we're implementing this cohesively."
Insights gleaned from skill data can inform things like future job descriptions and candidate interview questions, Sapriel said. "It could be unstructured learning. It could be growth opportunities or stretch assignments. We can really think creatively about how we get this done."
Reimagine Your L&D Team
Keynote speaker and business advisor Stedman Graham urged attendees to be the best leaders they can be.

"You have a chance to transform people's lives based on the work you do every single day," said the Chairman and CEO of S. Graham and Associates.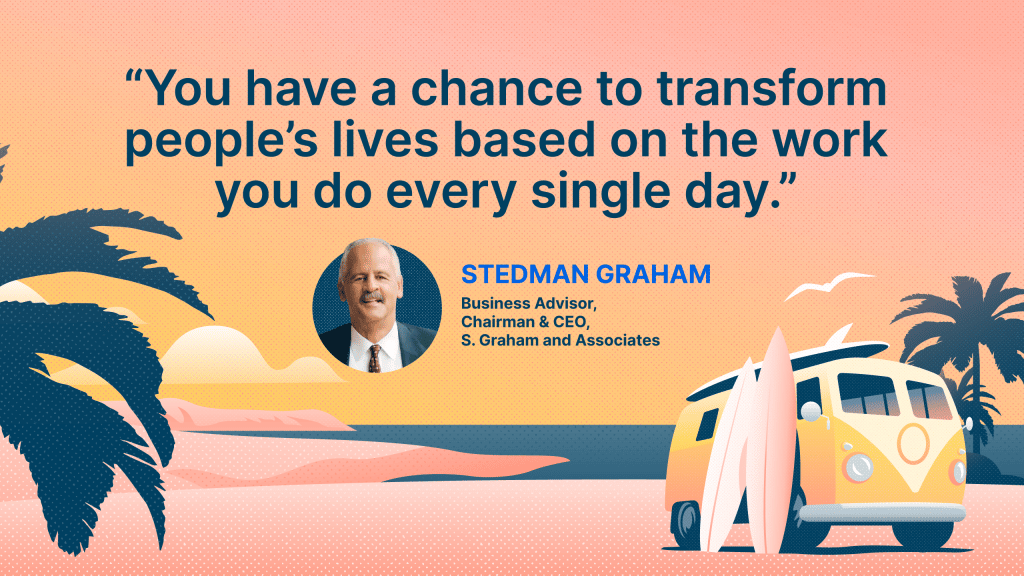 How you help your learning group do that is largely a question of investment. Investment in technology, internal marketing, design, measurement, your L&D workforce as a whole and its relationships, said Holly Travis, L&D Strategy and Enablement Director at Intel.
To get it right, it's important to be agile and ask questions.
At Intel, L&D tech investments start with trials of numerous new solutions at a small scale, Travis said. "This allows us to … fail, learn fast, move toward the things that are really successful and make those investments richer."
To market learning to workers, Intel L&D often explores new channels. Leaders there ask: How do we bring people along? How do we alert them to opportunities? How do we let them know learning in the flow of life is how you keep developing as an adult?
Investments in the L&D design team are increasingly dictated by how much content is built versus bought in addition to the realities of creating and managing learning remotely.
Measurement brings its own challenges, Travis said. "How do we connect it to our HR data to drive insights that tell us how learning is helping the bottom line?"
Overall spend on the L&D workforce is largely about skill set acquisition — through training and hiring.
"And then finally," Travis said, "we're looking at 'How do we create business unit relationships?' Because our goal is to move from softer skills at the enterprise level to more hard skills. We're going to be hiring up to 30,000 new engineers at Intel over the next couple of years. We need to upskill them technically… We need to be really creating great relationships with our business unit partners, who are those subject matter experts, so we can pair their expertise with our learning expertise."
That's a Wrap
As your unique 2022 L&D plot line goes from good to epic, recall the words of our closing keynote speaker Sebastian Terry, Founder of 100things, who emphasized that being passionate and believing in what you do can make a huge difference in what you're able to accomplish.
"We become infinitely more creative, more motivated, more resilient, more collaborative," he said. "We become unstoppable."
If you missed Degreed LENS, you still have a chance to catch its best scenes. We'll be writing more about its compelling sessions in the weeks ahead. And keep an eye out for session recordings available on Degreed on Demand soon.
Did LENS help you get your groove back? Keep rockin' out to our California-themed conference playlist:
To learn more about Degreed, contact us for a demo today.