Among consumer websites, Facebook is king when it comes to personalization. Stories and posts appear in the Facebook feed based on an algorithm that hides and promotes stories for each user based on their interests. Users can influence this algorithm by updating their settings and by "liking" content they want to see or choosing to hide content they don't.
This feed, and the algorithm that populates it has a huge effect on the Facebook experience. If you've ever unknowingly been sucked into Facebook, you can appreciate its power.
Degreed believes in the power of personalization. Engaging, personalized enterprise applications that employees use because they want to- and not because they have to, are the future.
Degreed has a personalized feed for learning content designed to target the development of each individual user. With the explosion of content, it's getting harder than ever to weed through the noise to find the specific content you need, when you need it. The most efficient way to target someone's development is to use technology to automate the delivery of content to each individual.
Based on user experience research and interviews, Degreed, like Facebook, continually improves its feed and algorithm. We are constantly looking at engagement and usage statistics and researching what hooks users to keep them coming back.
We've been refining and simplifying the user experience to make it easier for users to find relevant content they want and need to target their personal development. A year ago, action points were spread around the system. Now they are more centralized, simplifying the user experience.
What you'll see today when you log into Degreed is one place to find all the learning you're interested in. Based on our user research, we've found that more items in the feed lead to greater engagement with the content, so now you'll see a longer list of items. If you don't like the suggestions at the top of your list, more learning content is just a scroll away. Dismiss any item that isn't relevant.
The Degreed feed includes system-generated recommendations from any source, in a variety of formats including articles, videos, books, and courses. You'll see content that has been recommended by peers and managers, popular items from your network, roles you are following, content from pathways you're enrolled in, and items you've saved for later.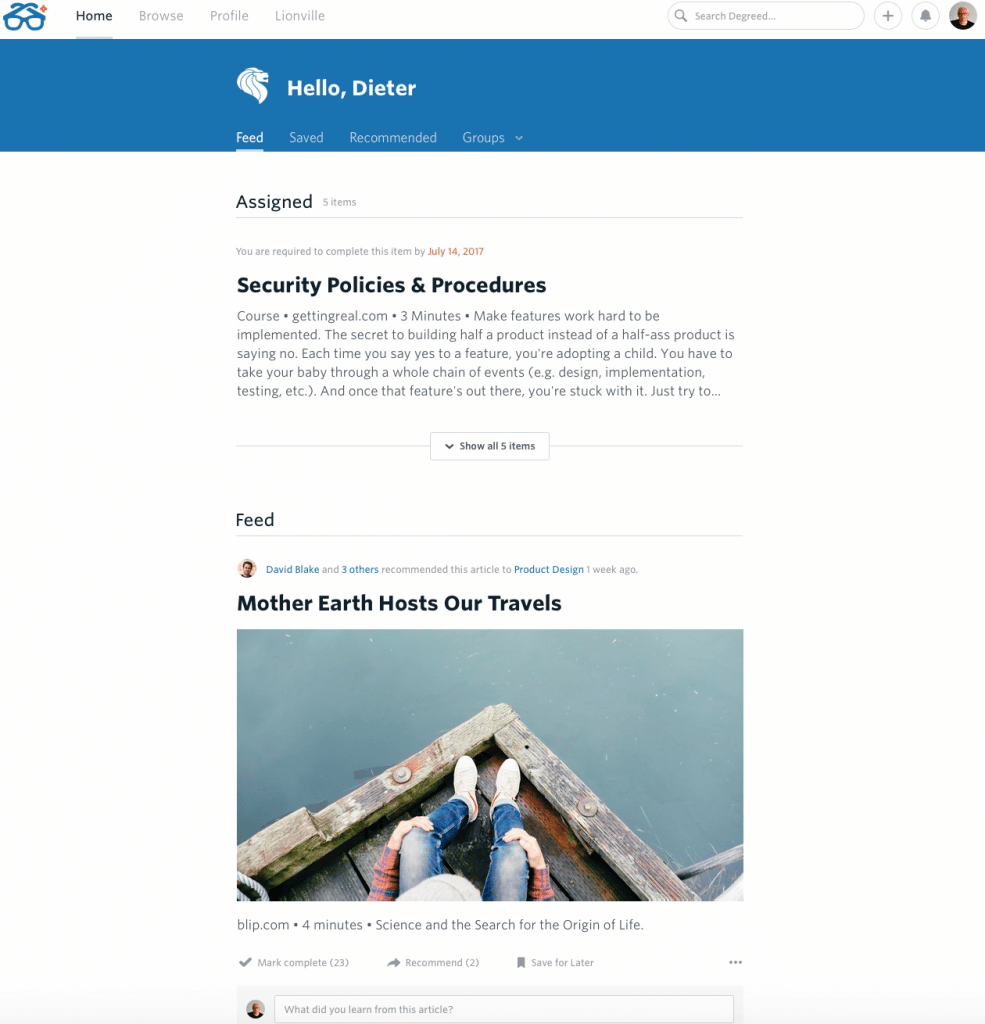 The learning feed gets smarter the more you interact with it. Users can continue to personalize and influence the recommendations by using features in Degreed such as:
Adding your learning interests and career goals to your Degreed profile.
Enrolling in learning Pathways – focused on topics or skills you want to develop.
Joining groups of people with similar learning interests.
Saving learning items for later.
Following people.
Organizations can influence these recommendations as well by:
Adding content to your content management system.
Selecting preferred providers for your organization.
Customizing pathways for your organization and auto-enrolling employees in pathways.
Adding roles and skills specific to your organization.
Takeaways
Most L&D leaders want to use data to improve and personalize learning in their organization. Degreed provides the tools to make this possible.
Content is everywhere, but finding and delivering the right content at the moment of need for each individual is impossible to do on your own. Let Degreed do the work of finding and delivering all the relevant content so you can target the development for each employee.
To learn more about Degreed visit get.degreed.com.