Things are changing — quickly. And how you respond can make or break your company's near-term success.
With a large majority (87%) of companies worldwide aware that they have or will have a skills gap within a few years, you may be thinking about how to build or improve your upskilling strategy to address critical business needs. Maybe you have a fully implemented plan to address a skills gap at your company. Perhaps you have some emerging ideas, or none yet.
No matter where you stand, we're here to help. That's why we created our Upskilling Strategy Audit, with the goal to help you see what's working, assess your biggest challenges, and figure out solutions. In turn, we learned a lot and built a personalized pathway of content and tools to help you succeed delivered directly to you. Sounds great, right? If you haven't already, you can still take the quiz!
The results of the audit provide a peek into what's lacking, working and wanted at companies large and small. And that's where this new three-part blog series comes in — to help you understand the L&D landscape so you can increase participation, maximize insights and provide your people with real-life learning opportunities. In this second part, let's focus on how using skill analytics and data can give you vital insights and visibility into your workforce and help you address the skills gap at your organization.
Why Skill Data and Analytics?
Without the insights provided by skill data and analytics, businesses can't make the smartest decisions about the skills they need for growth. They have less visibility into what skills their people have, what skill gaps exist and what skills their people need to learn.
Skill data can help uncover areas of weakness at your organization and point you toward tactics that can help it improve. You can use skill data to identify and develop future skills, find growth opportunities and identify strengths and risks.
To start using skill data, consider your personal, team or organizational goals. What's important? Once you identify these goals, you can begin finding and tracking success metrics that matter to your organization and people.
Looking to Tomorrow
Learning teams these days are expected to close skill gaps while making the workforce more agile, innovative and inclusive. But more than half of business leaders (53%, according to Gartner) say a lack of visibility into skills is their top barrier to workforce transformation. Respondents to our audit relate to this, with 56% selecting lack of visibility and accuracy into people's skills and skill gaps as their most pressing challenge.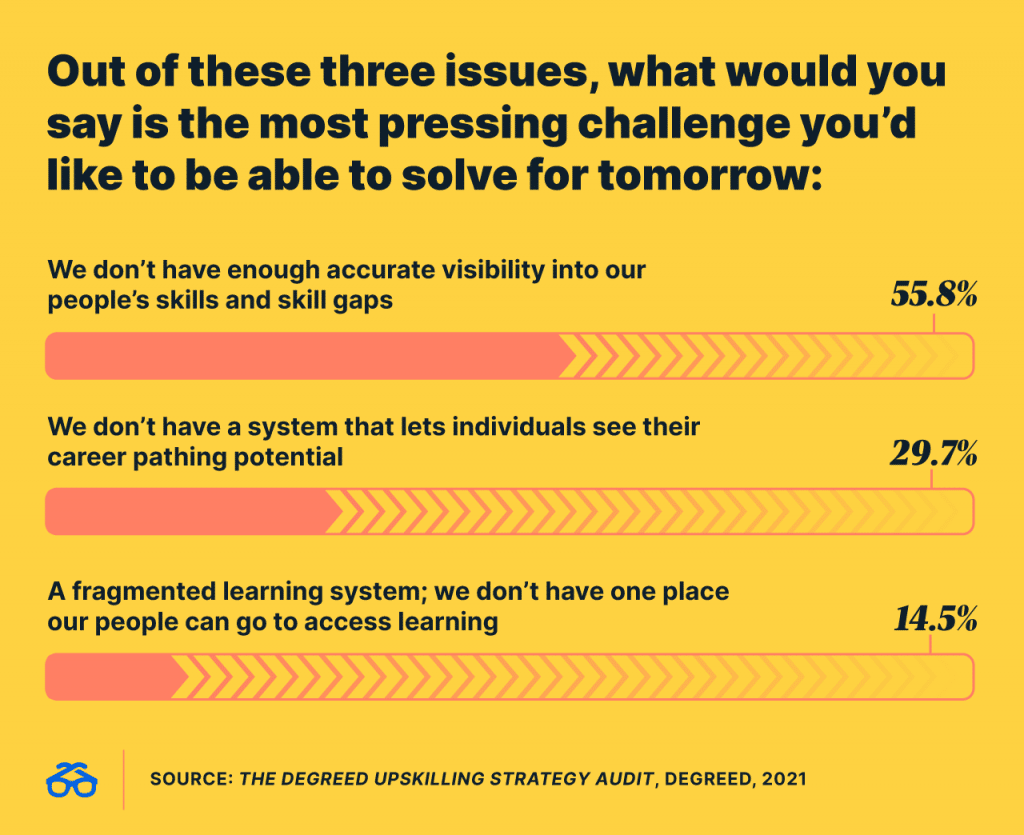 Other respondents' most pressing issues included the need for a system that shows career pathing potential (30%) and having a fragmented learning system (14.5%). How can you get insights and identify opportunities in one spot? By tracking, using and understanding skill analytics within a smart system like Degreed.
By 2023, 40% of large organizations will have deployed learning analytics technologies, according to Gartner. Understanding the bigger picture of skills and skill analytics is important to more than business and learning leaders. In our research report State of Skills, more than a third (38%) of workers say they feel less confident now than they did before the pandemic that they have the skills to do their jobs effectively. And nearly half (46%) predict their current skills will become obsolete in the next three to five years. 
What can you do to ease your people's concerns and boost your company's odds of success? Address your internal skills gap head-on. Look at the entirety of your organization's existing skills, invest in the right resources to develop your people and build a culture of continuous learning and development to ensure long-term growth and success.
Solving for Tomorrow
Understanding the supply and demand for skills at your company is critical to your upskilling and reskilling strategy. It's helpful to know which skills are growing or declining in value in your country, business, and role.
Yet 46% of respondents from our audit don't collect skill data, 30% use a manual, in-house system like Excel and 22% use multiple tools. Other respondents use a HCM system or look at resumes, which are not entirely accurate or measurable of skills in action. Only 19% of respondents are using a smart system to intuitively understand skills inventory and performance.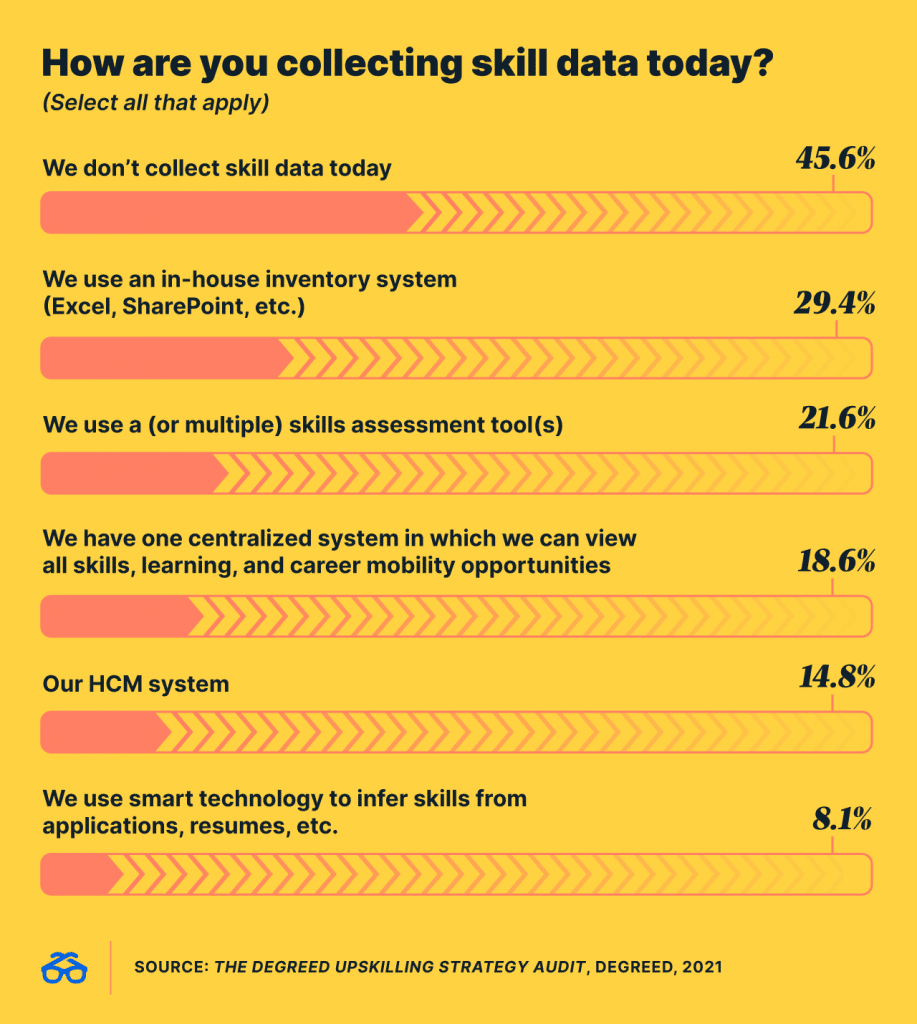 It's hard to know where to begin with skill data and how to harness all of its power. There are countless ways to analyze skill data and apply it to your organizational and individual goals. A simple way to gain new ideas and strategies is to look to those who are on the same path.
Degreed client FICO uses skill data as a tool for informing and creating targeted initiatives and personalized learning plans. These are directly aligned with the strategic priorities of the credit ratings company, which provides analytics software solutions to banks, insurance companies, telecommunications firms, retailers and more.
Traditional learning data often emphasizes course completions and time spent learning making it hard to tie it directly to business outcomes. "The same can't be said of skill data," said Chrissy Chamberlain, Sr. Director of Digital Learning, at Degreed LENS Lite. "That's because business strategies at their core have a set of skill and talent requirements to achieve successful outcomes, not a set of training requirements. And skills are measurable. You can put a scale to it. You can wrap context around it. You can track an upskilling development journey from novice to intermediate to expert, and learning then becomes a supported activity within that journey."
In short, skills are trackable, measurable and scalable. And when you track the supply and demand of skills with a smart system like Degreed, you can:
Efficiently invest in talent by understanding the skills your people have and need
Standardize data through integrations with talent and learning tools
Automatically keep skill data up to date
Skill analytics can be the new L&D superpower. You can prioritize your people's efforts to meet the most critical business needs while closing the skills gap at your organization. And when your team quickly adapts to seize new opportunities, there's a better chance of outperforming your competitors. To sum all it up, organizations that want to build the skills of today and tomorrow are prioritizing and investing in systems that understand the power of skill analytics.
Want to Learn More?
Take our Upskilling Strategy Audit to gain insights on what you can do to help your L&D strategy thrive. And download our latest research report How the Workforce Learns for 15 actions you can take to create a positive learning culture at your organization.