Two solutions. One front door.
Implementing LearnUpon and Degreed helped Edrington move past fragmented and inefficient learning to provide workers with relevant, engaging content in a friction-free experience accessible through a single portal.
That winning combination — LearnUpon is a learning management system (LMS), Degreed a learning experience platform (LXP) — is the focus of our latest Degreed customer case study, available today. Through a longstanding partnership, the two solutions are designed to work together. And the Edrington story is an inspiring example of how learning leaders who want unified functionality from an LMS and LXP can maximize results.
Edrington had implemented learning solutions before, but leaders at the world-renowned Scotch whisky and spirits company found them lacking, said Chris Palmer, Learning and Development Advisor. "We had a number of providers scattered about, and depending on your department, region, or business area, you'd get something different.
"With LearnUpon and Degreed, everything is in one place for our learners," Palmer said. "It's easy to access as there's single sign-on enabled. Our employees can create their own learning journeys in our academy with Degreed. Then, click on a course, and all of a sudden they're seamlessly learning in LearnUpon."
Impressive Results
With LearnUpon and Degreed, the Edrington L&D team provided new learning opportunities to 2,500 workers.
A year after the rollout, Edrington had:
Engaged 85% of its people with new learning
Enrolled workers in more than 28,000 courses
Helped people build personalized learning experiences
Explored new insights into the supply and demand for skills across the company
Created bespoke, in-house training courses for compliance, skill development, instructor-led training, and more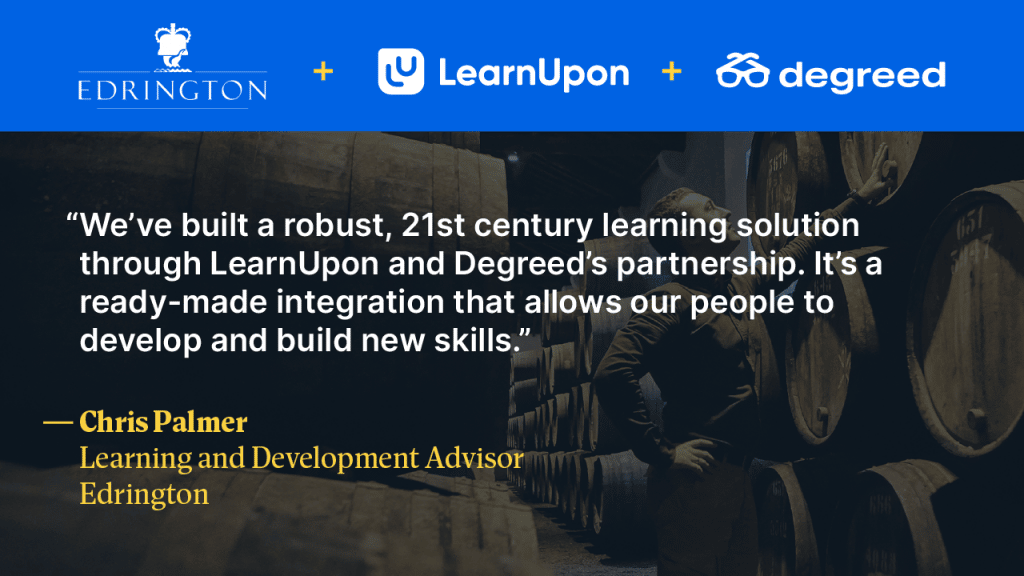 A Strategic Partnership
It's not just product integration that's helped Edrington. Support from experts on the LearnUpon and Degreed teams helps too, Palmer said.
"The relationship has enabled us to think strategically about learning and our business," he said. "The knowledge and experience we're offered is brilliant, and it reassures us we're doing the right things."
Want to read the full story? Download the case study today.