If we look at a traditional education or career path, they might seem quite linear. Your journey likely consisted of going to college, and you might have even known what you wanted to do, which lead to a certain career ladder, lasting decades within a company. The learning resources were in a classroom, training manuals, one-way disseminations of content being pushed to you. The technology was not as flexible or readily accessible.
Fast forward to today. The average career path is no longer linear and probably looks a lot like mine – horizontal, zig-zag, winding, inconsistent – but full of purpose.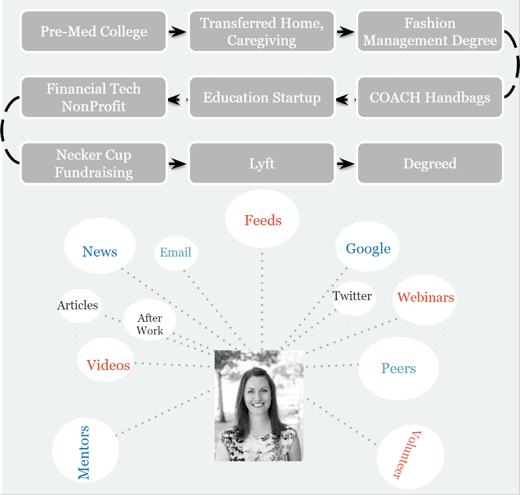 No matter your journey, each step in our learning and career journeys have a purpose in which we are consuming learning content, gaining skills, expanding our networks and going through applied learning experiences that land us in roles and careers that we are (hopefully!) passionate about.
While less prescribed, the new career journey does not come without a set of problems. As learning and training personnel, we are especially aware of the challenges a 60-year career presents and the need to support our workforce in continuous re-skilling.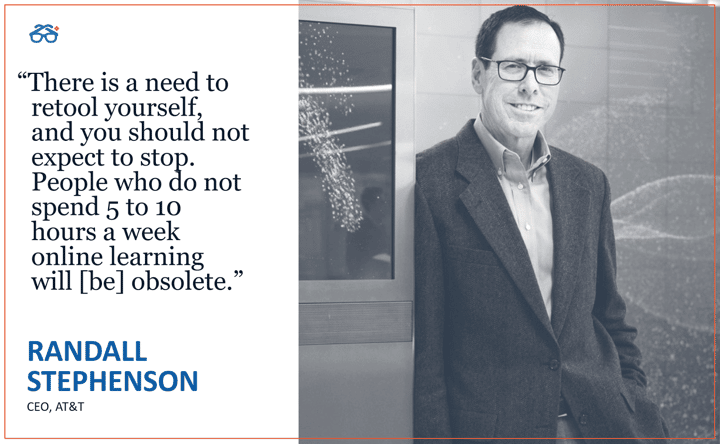 It's probably good then that the amount of content out there is exploding at the same time as new skills are being required for jobs faster than ever before, movement within companies is shifting on a quarterly basis, and competition for talent is at an all-time high.
And that content is being utilized. Degreed found that 70% of workers learn from peers or by reading articles and blogs every week, and 53% learn from videos in any given week.
The explosion of both content informal learning opportunities presents new challenges: where are we seeing the skills we are acquiring? Will we be passed up on job opportunities because we can not show, prove or articulate what we know? The list goes on and on.
So how do we solve for this? How do we make this learning we do matter? How do we show what we are learning from all the articles we read, videos we watch, experiences we have?
Meet Degreed. The New Way of learning has been a challenge, but being able to discover, consume, track, share all my learning within Degreed has helped me and millions of others identify passions, career development pathways, and make sense of all the learning that is happening online and offline to define more of my career path.
We all have a learning journey like mine – all over the place – and Degreed helps make sense of that. We ALL are learning all the time, now it is time to get credit, create purpose and love what you are learning and doing on a daily basis.
Be a part of the new way starting today.