In an effort to continuously honor our commitment to delivering our clients the best experience possible, Degreed recently hired a new Vice President of Client Experience, David Verhaag.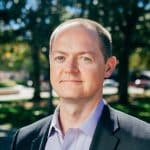 He will lead the post-sale teams including Client Engagement and Client Support. Prior to his employment with us, he partnered with Degreed for 8 months in an advisory capacity. During that time, he learned "first hand about this amazing company and the mission-driven team leading a transformation in the way we think about education. When the opportunity to consider the next step in my career came, joining the Degreed team was an obvious choice."
He will become a regular contributor to the Degreed blog through the "field notes" series, sharing both career and client lessons learned. Degreed is proud to have this strong addition to not only our organization but also our client success efforts. A round of applause for his debut:
Start with Why
"People don't buy what you do. They buy why you do it." The message is simple. Simon Sinek's incredibly popular TED talk and framework is an important way of thinking about sales and marketing. Like many people, I love the simplicity and clarity of "Start with Why". It makes immediate sense the first time you hear it. Until recently though I didn't apply this thinking to my own career.
Following Simon's model, from the outside in my career looks like the following: "I build and manage high-performing Customer Success teams. We deliver exceptional product adoption, industry-leading Net Promoter Scores and customer retention. Want to hire me?"
As Simon would say, "Meh…"
This time around, I reversed my thinking to the following: "I change the status quo. I lead customers and my teams to a new way of thinking and operating. I do this by building high performing Customer Success teams that challenge the old ways of learning and managing talent and we provide the partnership and expertise to drive change. We do this by driving production adoption with industry leading NPS and customer retention. Do you want to change the status quo?" That feels better.
Challenging that status quo in talent management has been a big idea for many years. It is the exciting opportunity I was looking for when I moved from my career from being the HR Guy to a focus on HR/Learning Tech and Customer Success. When I originally joined SuccessFactors in 2004, software as a service (SaaS) for HR and the digital performance review was still a relatively new idea. We moved customers from the status quo of paper-based performance management to the innovative idea of digital talent management and ultimately to the breakthrough of SaaS.
In 2013, I joined HireVue to challenge the status quo in recruitment by moving talent acquisition from expensive and time-consuming in-person interviews and sales training to video-based interactions and assessments. The result was millions of people connecting with career opportunities in a way that enabled them to have their story heard.
The idea at Degreed is even bigger! I could not be more excited to be a part of the Degreed team to work with our industry leading customers to challenge a legacy status quo that negatively impacts far too many people and organizations: learning as measured by the college degree.
What are some ways you have challenged the status quo? Let us know.