Today's workforce operates at unprecedented levels, with technology and an increasingly diverse workforce constantly reshaping the world of work. The changes affect multiple facets of the business, right down to people operations. The shifts experienced by L&D are so great that HR expert Jeanne C. Meister suggests that the conventional wisdom about work and the role of HR departments has become obsolete.
Todd Tauber, VP of Product Marketing at Degreed, recently caught up with Jeanne for a Q&A on the future of work and what our always-on economy means for the way organizations view learning.
Todd: You've recently written about the idea of "the serial learner" — what we at Degreed call "the career-long learner". Can you explain what that means, exactly?

Jeanne: Serial learning is a term I coined in "The Future Workplace Experience: 10 Rules In Mastering Disruption In Recruiting and Engaging Employees" book to imply the need for continuous learning on the part of employees.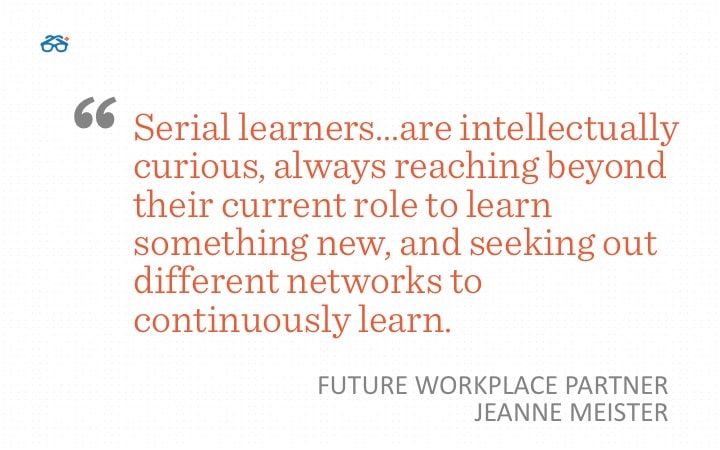 As I noted in The Future Workplace Experience, serial learners possess some of the same qualities as serial entrepreneurs. They are intellectually curious, not satisfied with business as usual, always reaching beyond their current role to learn something new, making connections out of seemingly unrelated topics and seeking out different networks to continuously learn. I think the same concept applies to learners today. This concept is gaining importance as the half life of knowledge is doubling every 2.5 years across all jobs not just technical ones.
Todd: You've also said being a serial learner is becoming crucial for career growth. And we're seeing echoes of that in lots of other places. Why is this idea suddenly taking hold?
Jeanne: I believe the reason serial learning is so key for ongoing career growth is the rate and pace of change in every industry have accelerated. Consider that 52% of the FORTUNE 500 organizations have merged, been acquired or gone bankrupt since 2000. Those companies that are still on the FORTUNE 500 list are responding to change by becoming what I termed in the book, "learning machines." They are creating a culture of continuous learning and they are also quite transparent about the need for serial learning.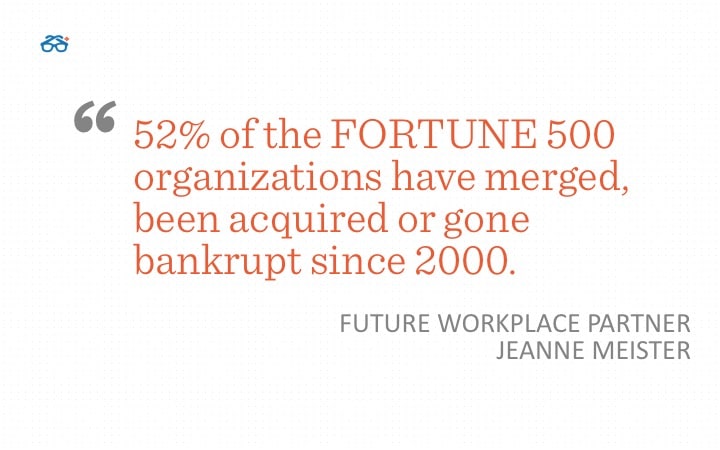 Consider the CEO of AT&T, Randall Stephenson challenged AT&T employees with this: "If you don't develop new skills, you won't be fired but you won't have much of a career at AT&T. For the company to survive, AT&T employees should be spending between 5-10 hours a week learning online on their own time, to avoid technological unemployment." Sound harsh? It's an honest assessment in the case of AT&T and the question for all of us is will we see more CEO's putting out these types of challenges to their employees.
Todd: How does all this affect corporate training and talent development leaders? How are you seeing chief learning officers and CHROs adapt to this new normal …their people, their processes, their tools, and technology?
Jeanne: I am seeing a sea of change in how companies are dealing with disruption as the new normal in corporate learning. First and importantly, there is the changing composition of team members in corporate learning. When I was conducting interviews for The Future Workplace Experience, I saw a number of new roles in corporate learning, such as Learning Experience Manager, Curator, Employee Community Manager and head of People Analytics. These new roles speak to a new direction for corporate learning – one that is data driven, while taking into consideration the need to craft a new experience for learners, one that is personalized, anticipates their learning needs and is relevant to the strategies priorities of the business.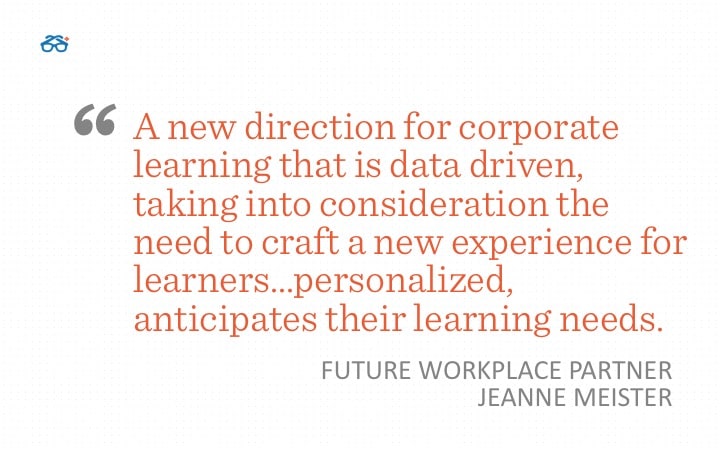 The processes and technologies are also changing, Processes no longer start with ensuring efficiency and standardization in Corporate Learning, but now routinely take into account the needs and expectations of learners. A growing number of companies are employing design thinking to create a human-centered approach to learning and one that starts with understanding the needs of the learner rather than the Corporate Learning function. Finally, I am seeing growing interest in technologies which aggregate all of the learning an employee participates in not just the company sponsored learning. In addition to technologies that curate learning, I am also seeing more companies integrate adaptive learning allowing employees to learn at their own pace and participate in learning will best suit their needs.
Todd: So how does all this fit into the overall employee experience …or as you call it, Jeanne, the future workplace experience? What's career-long (or serial) learning's role in the bigger picture?

Jeanne: The overall workplace experience is one that mirrors the best experience a company creates for its customers. I like to challenge my Corporate Learning clients to think of their best customer experience, and then ask them to describe their emotions. Many share emotions such as happiness, joy, delight and surprise as they recount a particularly memorable customer experience. Well, that's what companies are seeking as they create a compelling workplace experience for their employees.
Interested in learning more about serial learning? Join us at a Degreed: Focus event near you:
Jeanne is Partner at Future Workplace and co-author of The Future Workplace Experience: 10 Rules For Mastering Disruption in Recruiting and Engaging Employees