Organizations spend billions each year on formal training programs. Yet it's estimated that only about 10% of what is learned in training is applied at work. This is likely a concerning statistic, but probably not all that surprising, considering learner behavior today.
Formal, L&D-led training is still a valuable part of how workers learn — around 70% of people told Degreed they take live, virtual or e-learning courses from their employers at least once a year. But these same people use informal, self-serve learning experiences to support their growth on a daily basis. According to Degreed research, 85% of workers said they learn things for work on a weekly basis by searching online, nearly 70% learn from peers or by reading articles and blogs and 53% learn from videos.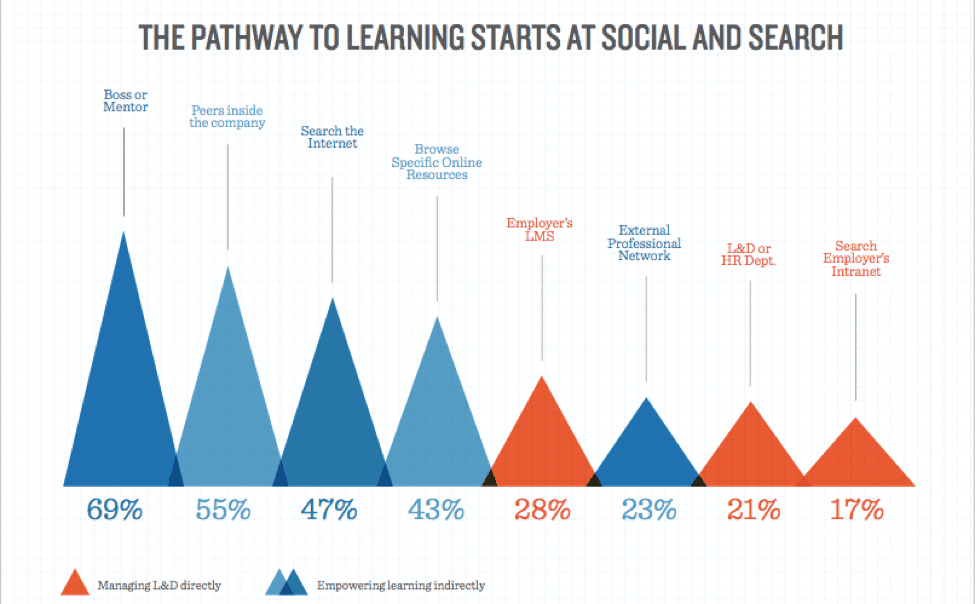 This data makes it clear that people progress every day, from a variety of resources.  The same survey told us they already invest 3.3 hours a week on their own. But a source that's accessed once a year versus a source that's accessed daily tell us people want more than what they can find in the typical L&D course catalog, though.
As demand from the workforce grows, making learning easy, accessible, personalized is only going to get more important. And not just important enough to keep workers happy. So important that it will be the difference in retaining employees.  As Josh Bersin put it at Degreed Lens, opportunity has become directly correlated to employee engagement and tenure within organizations.
So what can the enterprise do about it? Prioritizing growth, development, and learning will create a culture that positions both the company and its employees for success.
There are many ways to emphasize learning as a central strategy but here are four that can take you to the next level and make learning a strategic advantage.