With an ever-growing demand for diverse learning resources in today's workforce, it's becoming harder to navigate the vast ocean of available content. How do you find the right learning technology to meet the needs of all your employees?
Training Magazine notes that "the #1 barrier to buyers' satisfaction with learning technology is not user experience. It is the inability to integrate with multiple systems."
Degreed wants to make it simple for you to aggregate all your content in one place, which is why we've added instant content integrations to our platform.
Instant Content Integration: How It Works
Recently, Degreed released the ability to integrate a curated selection of content providers into the platform. Each one was closely vetted by the Degreed team to ensure a diverse and reliable selection of learning content that L&D leaders can immediately start utilizing.
Automatically integrating these providers allows their content to be searched, assigned, or added to Pathways and Plans through the Degreed platform. If or when a provider's content is no longer relevant for your workforce, disconnecting that provider is easy, and it will immediately remove that content from your organization's catalog.
There are currently about 20 out-of-the-box providers available through Degreed, which are additional to the hundreds of configurable integrations available as well. Access content from organizations such as:
Udacity: Online courses in programming, data science, artificial intelligence, digital marketing, and more. (Free and Paid resources available)
Skillshare: An online learning community of educational videos. (Subscription available)
edX: MOOC provider that hosts online university-level courses on a wide range of disciplines. (Free and Paid resources available)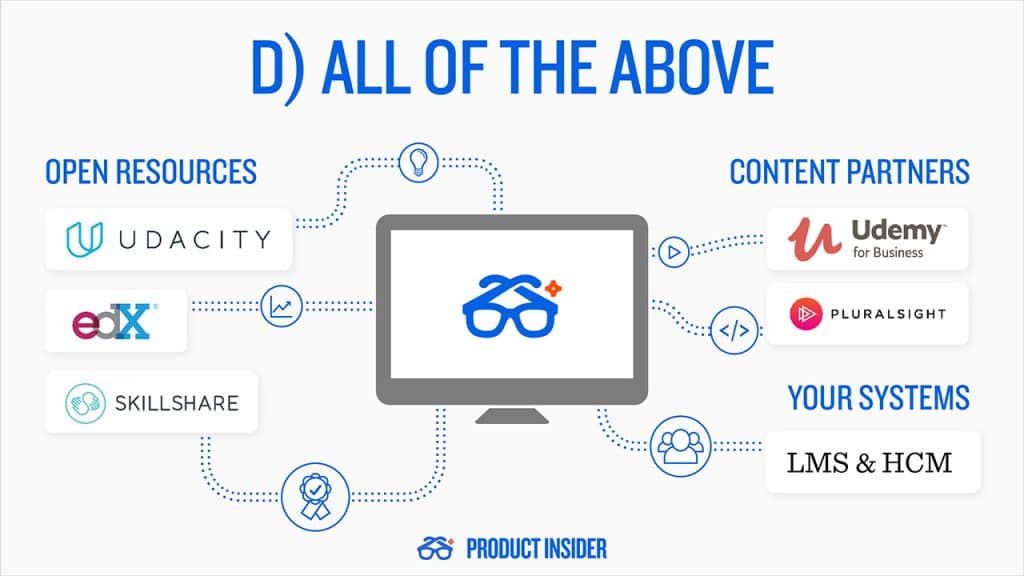 What Instant Content Integration Unlocks
The list of carefully curated providers gives insight into high-quality content that can be connected to the Degreed platform with a few clicks. With this added capability, administrators can discover new providers with the reassurance that the content quality has been approved by learning professionals, and instantly incorporate them into their L&D strategies.
Some providers also have a selection of free content, so administrators have the ability to evaluate the content before opting into an enterprise subscription. These providers are labeled as "Free, Paid" or "Free, Subscription," and connecting these providers to the Degreed platform will allow users to browse the free content. 
This content integration feature allows new Degreed clients to easily implement the platform with out-of-the-box content. While your organization is configuring a more personalized learning strategy into your catalog, clients can drive employee adoption with ready-made, accessible, and useful content.
What's Up Next
This update provides foundational support for the full management of your global content ecosystem in one place. As we expand on this work, our goal is to make available the best possible public content for every skill. To do this, we have future plans to add many more providers across industries, languages, and mediums. As we build, we would love your input! Send us a note at info@degreed.com.
Check out more of what our product team has been up to, like how the Degreed Integration Button is bringing learning into the flow of work.