Novelist Robert Louis Stevenson made the case for patiently taking iterative actions that add up to something big: "Don't judge each day by the harvest you reap, but by the seeds that you plant."
That timeless take is reflected in Degreed's history, and perhaps even more so when we've got big news — like the $153 million in Series D funding we announced today, valuing the company at $1.4 billion. The investment will be used to fuel innovation and generate value for our clients by accelerating product development, enhancing data infrastructure, and continuing our global expansion as we pursue new, strategic acquisitions.
That's not all, though. Dan Levin, former COO of Box, will succeed Chris McCarthy as CEO of Degreed. Chris is stepping back after almost eight years here to address a chronic back issue, but he'll remain in a strategic advisory capacity and sit on the Degreed Board of Directors. It was a very difficult decision for Chris to make, and he was heavily involved in the months-long succession process to ensure this transition is smooth and successful.
We've always worked to plant new seeds — for our own growth and our customers' success — from our scrappy start nearly a decade ago, through every strategic evolution, and continuing today.
To understand where we're going with this new resourcing and leadership, we always remember where we've been.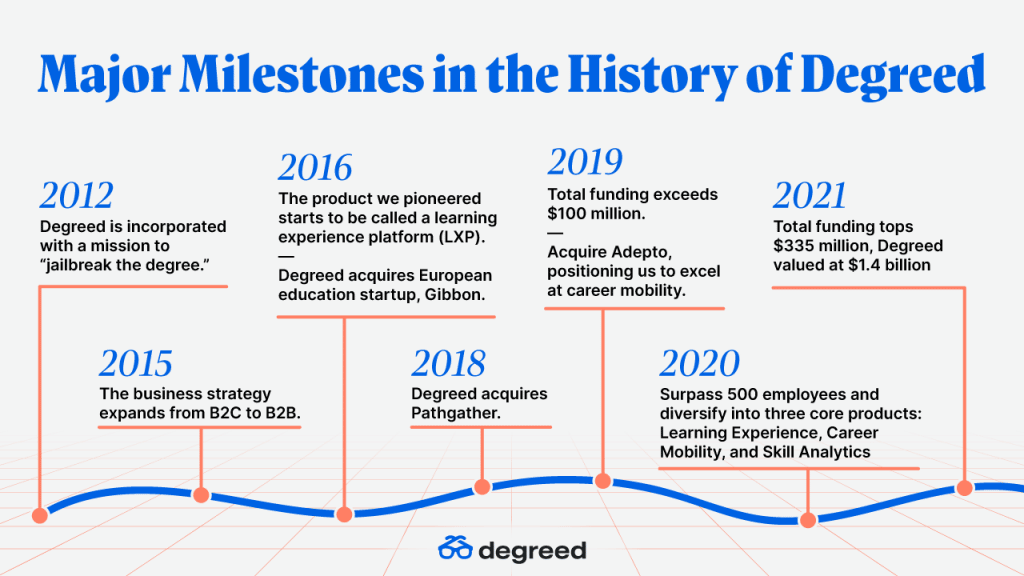 The Beginning: A Fresh Look at Learning
Degreed was created on a simple premise: Education is too important to stay the way it is.
Co-founders David Blake and Eric Sharp set out to jailbreak the college degree. "It should be our skills, irrespective of how or where we develop them, that should be what determines our opportunities, and I wanted to be part of the solution," Blake said.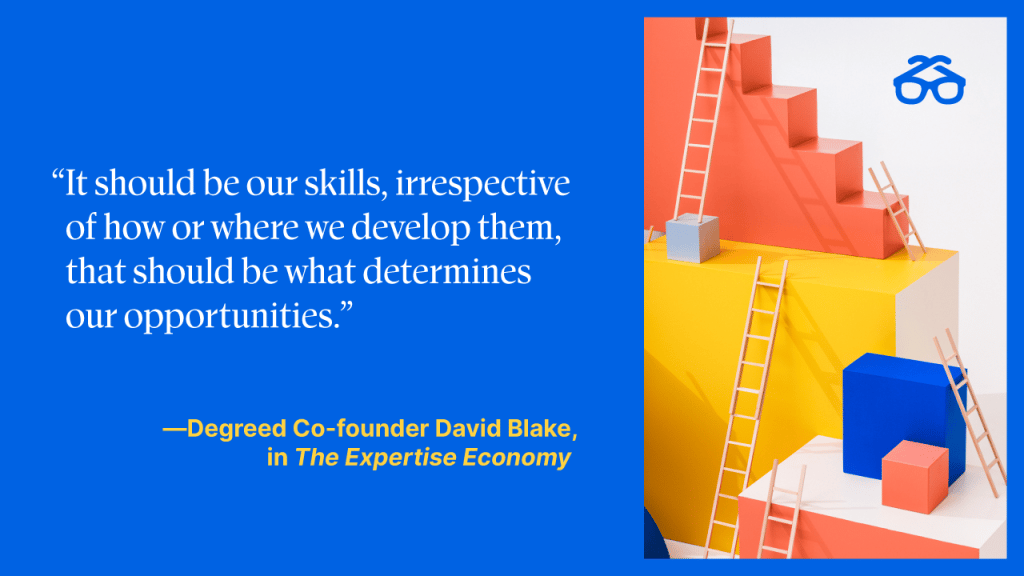 The Early Years: Culture and Momentum
McCarthy, who joined Degreed as COO in 2013 and succeeded Blake as CEO in 2018, frequently slept at the office and cold called learning leaders to get product feedback. "We've built something brick by brick," he said.
At first, Degreed was a business-to-consumer (B2C) platform, satisfying consumer demand for a portal that connects people with lifelong learning from a wide range of aggregated sources. But there was more to come.
Evolution and Expansion
A key product evolution came in 2015 with a shift from B2C to a predominantly business-to-business (B2B) strategy. The goal was to build something scalable, secure, and most importantly, impactful — an experience laser-focused on the needs of workers.
This led to new features that are still core to our product today: Pathways and Groups. The product we pioneered became known as a learning experience platform (LXP) — a reflection of our initial focus on integrating learning resources from a variety of systems and apps. As we added more sophisticated capabilities, we evolved into an intuitive workforce upskilling platform, broadening our customer base from learning leaders to talent, HR, and technology leaders, too.
Our 2016 acquisition of Gibbon brought depth to our content curation and product design. And our 2018 acquisition of Pathgather made Degreed more social while adding admin functionality.
Today, Degreed has expanded to three core products: Learning Experience, Career Mobility, and Skill Analytics. We help business leaders understand the supply and demand for skills across their organizations and connect people's skills to internal opportunities like projects, stretch assignments, and gig work, creating value for both the business and your people.

Explosive Growth: Funding, People, Customers
Including today's announcement, Degreed has received more than $335 million in total funding, enabling us to expand significantly.
More than 570 employees across 13 countries work at Degreed, and we expect to employ more than 600 people by the end of this year. Drawn to Degreed by its mission and culture, people like it here and tend to stick around.
In 2019, we acquired Adepto to help our customers identify skills that are in demand and bridge skills gaps by intelligently matching internal and external workers to new work opportunities. In another important milestone, we partnered with LearnUpon in early 2020. Now our customers can easily access the LMS features they need along with our learning experience platform in a single investment. Since then, we've gained additional partners, such as TED and Pluralsight, among others.
Along the way, we've consistently expanded our customer base domestically and internationally. Today, we serve hundreds of the world's most innovative organizations in over 27 countries. Owing to this success, our flagship virtual conference, the annual Degreed LENS Lite, last year drew more than 12,000 registered participants from more than 90 countries.
We're Not Even Close to Being Done
Throughout our history, we've been highly intentional about how Degreed has developed as a company and as a product. This remains a top priority, said Kat Kennedy, President and Chief Experience Officer. She was employee No. 1, hired by the co-founders.
"Thriving employees are eight times more likely to work for a company that they trust will provide them with career opportunities, even if their job changes or goes away," Kat said. "And businesses that can quickly reallocate talent to the most critical strategic priorities are more than twice as likely to outperform their competitors on total returns to shareholders. That's exactly what Degreed does, and it's the picture we are working to make a reality at each of the organizations we are lucky to serve."