Healthcare professionals have always been expected to stay up to date with new medical information. But when COVID-19 hit, the ways in which they learned had to change suddenly — and L&D teams led the way.
While the world largely shut down, healthcare workers continued to work long hours filled with mental and physical stress as well as daily life-or-death situations. A need for new knowledge, especially regarding the coronavirus, surged. And the traditional in-person learning format healthcare organizations often relied on was no longer a safe option.
How did L&D professionals in healthcare help their people adapt to this change?
Experts from Fraser Health Authority and UnitedHealth Group shared their strategies during our recent Curing the Healthcare Skills Gap webinar. Leading an engaging discussion, Degreed Chief Learning Strategist Annee Bayeux uncovered how these organizations excelled despite the difficulties of the past two years.
Here's what these organizations did, and what you can do too:
Prioritize a Better Learning Culture
A lack of time for professional development is one of the biggest obstacles to learning, according to our recent How the Workforce Learns report.
To help address that challenge, you can shift your people to a learning-focused mindset. It isn't easy, but when Deborah Wiest, Vice President of Learning and Development at UnitedHealth Group, sees concerns about time arising in her organization, she offers a thoughtful response: "Everyone has time. We all have time. How are you choosing to spend it?"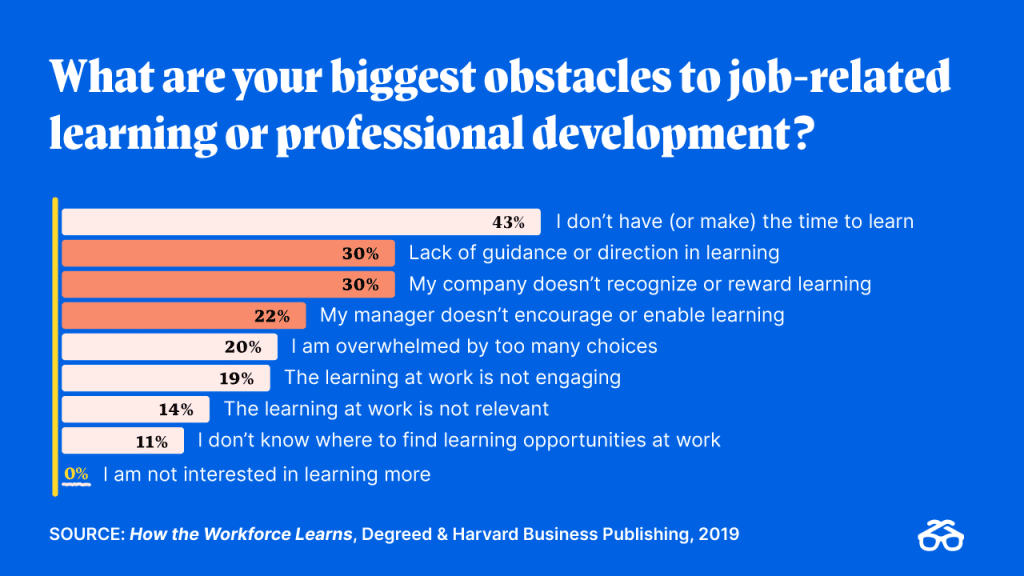 Learning leaders are powerful forces in guiding culture change. If people don't feel time spent learning is valued by their company and team, they likely won't make time to do it, Wiest said.
A positive learning culture embraces multiple learning methods, not only virtual options. At Fraser, learning leaders expanded beyond online learning, especially among frontline workers, said Daryl Page, Leader of People Development. The organization now sets aside time in morning huddles for workers to share new knowledge with colleagues and team leads.
Giving teams time to share their learnings during the workday shows people their organization prioritizes and encourages their learning, which helps create a more positive learning culture.
Acclimate People to Self-Guided Learning
A major change that occurred due to the pandemic was a swift shift of focus to virtual learning options. The need created an exciting opportunity for healthcare organizations — especially those lagging behind in technology — to "leapfrog into a different paradigm of learning," said Gabriele Cuff, Director of Leadership and Talent at Fraser Health Authority.
Easing the transition to virtual, self-guided learning also changed the role of L&D professionals in healthcare. At Fraser, the learning team tried a new tactic to help people acclimate. They now provide managers with content-based questions to ask their teams, which encourages conversational learning.
"We're just curating the path, and they're actually hosting the conversations," Page said.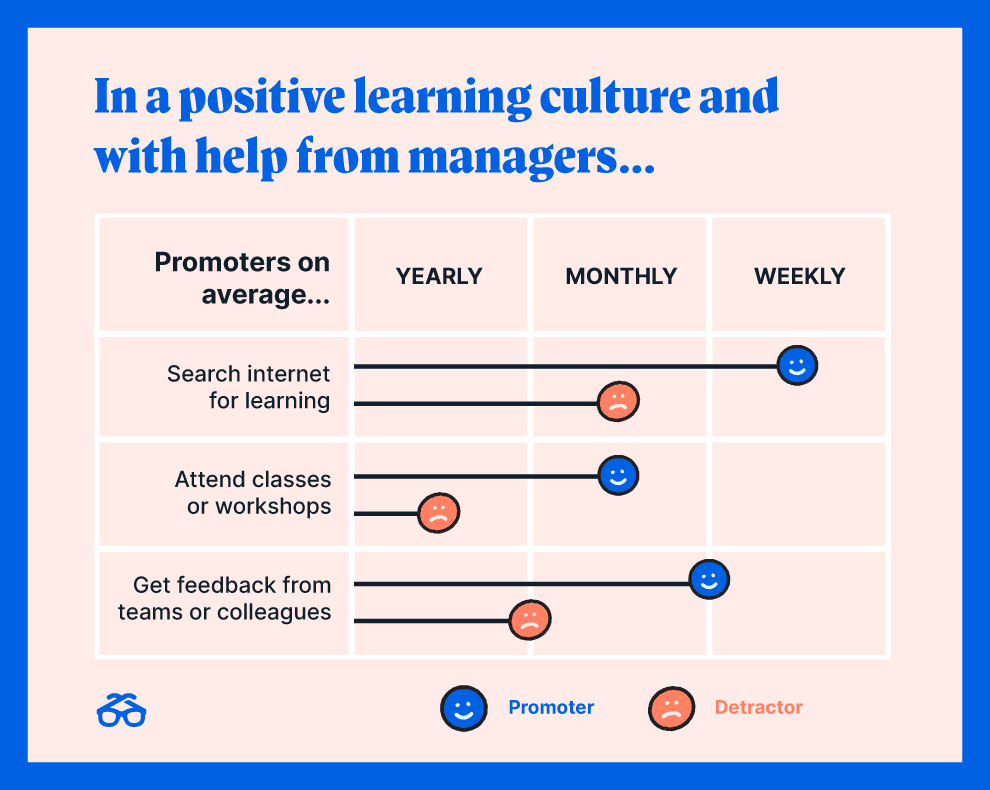 L&D professionals weren't the only ones who had to adapt to new ways of learning. Healthcare workers did too. They were used to learning teams providing them with the exact knowledge set they needed or wanted and are now adapting to serving themselves, Wiest said.
Encourage Collaboration
While L&D professionals create and guide learning opportunities, there's also a large social component they alone cannot provide. For example, development can come from experiential learning opportunities like mentorships, peer-to-peer discussions, special projects or stretch assignments.
"Developing people is everyone's job," Bayeux said.
To acknowledge the different ways people learn, the Fraser L&D team built collaboration into its strategy.
"We've shifted now to much more of that peer learning and connecting," Page said. "So content is there, or they find it, and then we're providing more opportunities for them to share with each other as opposed to it coming from us."
Helping your people see what knowledge can look like in action can help them create better outcomes. And when that notion is prioritized, people start connecting to content in new and stimulating ways.
It's true people need content. But, as you can see, great content alone won't always encourage the learning and engagement people need to excel.
"We want people to learn from each other, not just from content," Bayeux said. "So we're shifting from this focus on knowledge acquisition to actually creating an environment where knowledge actually comes from a lot of different places — from people, content and the experiences that we have."
L&D professionals are using all these methods and more to help healthcare workers continue learning effectively in a timely manner.
Want to Learn More?
This type of agility is something you can bring to your organization as well. For more details, check out the Curing the Healthcare Skills Gap webinar on demand today. Or reach out to a Degreed representative. We'd love to chat.