Many of us have been there. You pull in to LaMars or Krispy Kreme and there is a 10 by 10 case full of at least 10 choices of donuts. You've got sprinkles, filled, iced, cake, yeast, chocolate, vanilla, maple, circle, log… the choices go on.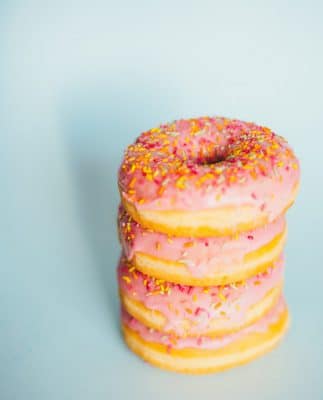 The same goes for learning. You do an online search on a subject area in which you need more information, and poof – 200,000 results. You've got a library of content to sift through. This many choices can be confusing and maybe even paralyzing in some cases. People think, "Where do I begin" or "How can I find the best of this?" In some spheres, we can rely on expert judgment or crowdsourcing for the initial vetting (think Consumer Reports and Amazon's star ratings).
But here's where curation is like donuts – both are better in moderation.
As said by the Oppenheimer AVP of Organizational Development, Patrick Osborne, "There is a diminishing return in having too much content.  One donut is a treat.  Five is a tummy ache.  Ten donuts is a trip to the ER."
While ten donuts seems like a good idea (been there, done that!), the after effects – not so much. Same goes for content. Too many choices means the user will make no choice – they are too overwhelmed.
In a world of virtually limitless information and learning content, the curator provides a valuable service by simplifying what people see and sifting out all the noise, junk, and inferior options.
Osborne's advice? "Measure by weight, not by volume.  Be ruthlessly selective. The curator is also a de facto editor.  She decides what people will see, and what they won't.  There's an awesome power and responsibility in that."
It's good advice, but how does the rubber hit the road? How is Oppenheimer using curation? Well, you will have to come to Degreed LENS in September and attend Patrick's workshop, "Upskill Yourself: Curating Skills" to find out. Kidding. Kind of.
Like many organizations, Oppenheimer is increasingly hearing from individuals that they have "no time" for learning.  Patrick thinks that's partly reality but also a statement of modern learner preference—employees want things to be as short, convenient, and interesting as we can make it.  We used to be able to sell 20-30 minute online learning programs.  Now people want 2-3 minute microlearning.
Thanks to curation, the best, most relevant resources for the individual have already been served up in a single place. Oppenheimer is now offering a much broader range of options for learners than they have in the past, and shifting resources away from developing and delivering traditional learning (or outsourcing it) and concentrating on building an infrastructure based on learner centricity.
Patrick's favorite thing about curation? "I enjoy the challenge of the hunt and the thought that goes into crafting something well.  The mechanics of creating learning pathways are trivially simple.  The challenge (the art?) is in creating a pathway someone would willingly and voluntarily spend time using.  That requires thought and skill and creativity."
For real this time – Patrick will be speaking about Oppenheimer's curation journey, alongside Harley-Davidson and St. Charles Consulting Group, at Degreed LENS in September. There are still spots for the conference and his workshop – register and get more information here! Who knows – donuts may be included.